Contents
Tags
Remixed From
License
Give a Shout Out
If you print this Thing and display it in public proudly give attribution by printing and displaying this tag.
Print Thing Tag
Summary
Ultimate Dungeon Terrain
Based on the idea from the YouTube channel Dungeon Craft: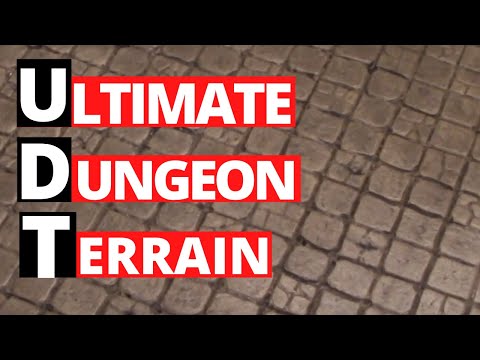 A 16" x 16" dungeon board sitting atop a rotating base. Easily viewable and accessible by all players at the table. No need to setup endless dungeon tiles and walls. Simply put out a few terrain pieces to suggest the space around the players as they move from room to room.
Integrates the lazy susan bearing by sbalgass into its design.
Printing
Board prints in 21 pieces, number from left-to-right, top-to-bottom. Board pieces are intended to be printed vertically without supports.
The outer ring of the lazy susan is a single file to print 12 copies of. I suggest using supports.
Assembly
Short lengths of 1.75 mm filament can be inserted in the holes on the edges of each board piece to assist with alignment and support. I assembled everything with a combination of crazy glue and ABS acetone welding. I used Elmer's Wood Filler to fill in any remaining gaps between the pieces.
The lazy susan requires approximately 140 balls of 6mm in diameter. I used airsoft BBs. You'll also want to stick some adhesive rubber feet on the bottom of the outer ring. You can find those at most hardware stores.
Print Settings
Printer Brand:
Printer:
Rafts:
Supports:
Resolution:
Infill:
Filament:
Tiertime ABS
Black
Notes:
Printer Model: UP Mini 2
Board pieces printed without supports.
Lazy susan pieces printed with supports.