Snap-Together Mini Minecraft Jack-O-Lantern with integrated LED
by scottrlindsey
Sep 27, 2018
Contents
Tags
Remixed From
License
Give a Shout Out
If you print this Thing and display it in public proudly give attribution by printing and displaying this tag.
Print Thing Tag
Summary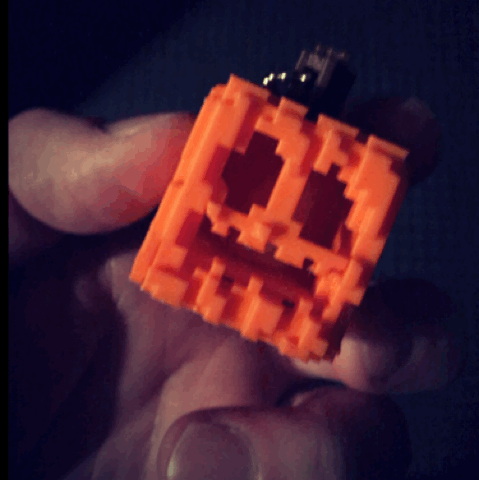 Happy Haloween!!!!
This is a 1/4 size version of my previous Minecraft Jack O'Lantern, now with integrated LED and CR2032 battery and 3d printed button controls. And best yet, it prints WITHOUT SUPPORT!
You can print either with a hole in the stump, or without, and you're probably going to want to print one of my Flame LED Diffusers as well.
The LEDs I'm using have an integrated candle flicker chip and 29mm long leads, so that they can be bent around and used as contacts for the battery.
If you would like to use as a keychain, you can print with the stump with a hole and use some common ball chains like you would find in a hobby store or here: http://amzn.com/B072N6T26K
I put together a Youtube video to explain the assembly, which involves a bit of sanding and fitting here:
https://www.youtube.com/watch?v=9dpTfo4SHSE
I'm using a Monoprice Maker Select Mini with pretty good tolerances, and I'm able to fit the parts of this print together with only a little sanding or shaving to remove a slight bottom layer over-extrusion. If your printer is over-extruding, you may have to do more sanding.
Also -- and I apologize for saying this -- you might want to have some crazy glue on hand. All parts are meant to snap together, but there is a real risk of something breaking off, particularly the bottom corners of the top piece. If that happens, I apologize. PLA is rather unforgiving.
My go-to filament for this design has been Hatchbox Orange with the buttons in GO-3D glow-in-the-dark green, but I'm also done a few pumpkins some Proto-Pasta Tangerine Orange Metallic Gold HTPLA. You'll also see a few pumpkins that are green -- those are an old spool I bought years ago which was sold as "glow-in-the-dark", but didn't really. However it does fluoresce very well, so coupled with a 395nm UV LED, it gives a very spooky effect.
Print Settings
Printer Brand:
Printer:
Rafts:
Supports:
Resolution:
Infill:
Filament:
Hatchbox PLA
Orange